Last day of teasers – the Black Shark 4S duo will be unveiled tomorrow. The new Pro model will join the ranks of Snapdragon 888+ equipped phones and will also enjoy faster storage among other improvements.
The S-phone will feature version 2.0 of the Dual Disk Array system, which promises to speed up read and write performance. As you can tell from the name, this is an improvement over the RAID system used in the Black Shark 4.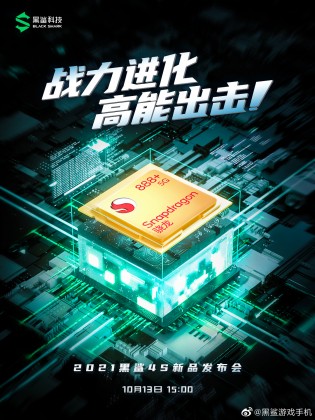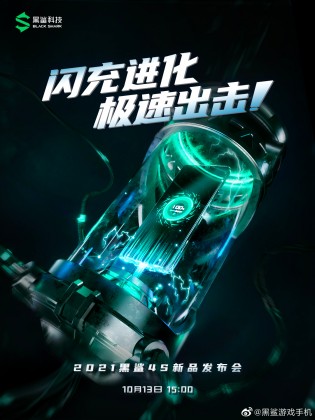 The Black Shark 4S Pro is coming with Snapdragon 888+ and 120W fast charging
The 4S Pro will support 120W fast charging for its 4,500 mAh battery, just like its predecessor. However, with some optimizations Black Shark managed to achieve a full charge in 15 minutes (it used to take 17 whole minutes on the 4 Pro). A 0-50% charge time is only 5 minutes.
The video below shows a charge test between the 4S Pro and an iQOO 8 Pro (another 120W, 4,500 mAh phone). Of course, it was performed by Black Shark, which isn't entirely impartial in this.
Black Shark is promising massive improvements to the audio experience as well. Part of that comes from the phone itself, the 4S Pro should dethrone the current champ in the DxOMark audio quality chart, its predecessor, the 4 Pro. Here's a blind test performed by Black Shark:
The company will also launch a True Wireless Headset tomorrow. It is optimized for gaming with a custom chipset that promises latencies as low as 30 ms.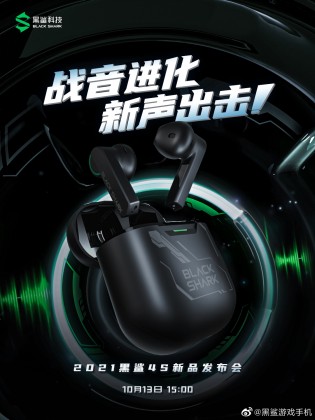 Black Shark's first TWS headset promises super low latency audio
Like with the original Black Shark 4 duo, the S-models will feature a Samsung E4 AMOLED display with 144 Hz refresh rate, 720 Hz touch sampling rate for touch latency of just 8.3 ms as well as hardware shoulder triggers.
Check back with us tomorrow for the full details.
Source:
Black Shark 4S Pro is coming tomorrow with a Snapdragon 888+, improved 120W charging