Fueled by gusty winds, a fast-moving fire burning north of Santa Barbara exploded in size on Tuesday, forcing the closure of sections of Highway 101.
The so-called Alisal fire erupted on Monday, jumped the highway, and burned down to the Pacific ocean. By Tuesday morning, it remained at 0% containment as hundreds of firefighters worked to box in the blaze and stop its spread.
"There's a lot of dead, decadent, receptive fuel beds in the area where this fire started," said Andrew Madsen, a public information officer with Los Padres national forest, who noted the area where the fire started hadn't burned in decades. Evacuation orders have been issued for residents in Refugio Canyon and the El Capitan state park and El Capitan campground are closed, while hundreds of homes, ranches, and other structures remain under threat.
Strong winds, with gusts reaching up to 70 mph, drove the fire down to the ocean and prevented aircraft from battling the blaze from above, officials said. On Tuesday conditions improved and there's optimism that the fire's spread will slow.
Burn scars from previous years have also helped crews corral the flames. "As soon as it gets into that old burn scar there's not going to be any receptive fuels there," Madsen said. "That's where firefighters are looking to make a stand on it."
On Tuesday there were roughly 600 personnel assigned to battling the blaze, and local, state, and federal resources were being deployed.
"It's been a hectic fire season," Madsen said. Firefighters have worked tirelessly this year, deployed on weeks-long assignments peppered with only a few days of rest. "But the good news is a lot of the fires up north are being contained," he added, "so they have shed resources so they have been available to come assist on this fire."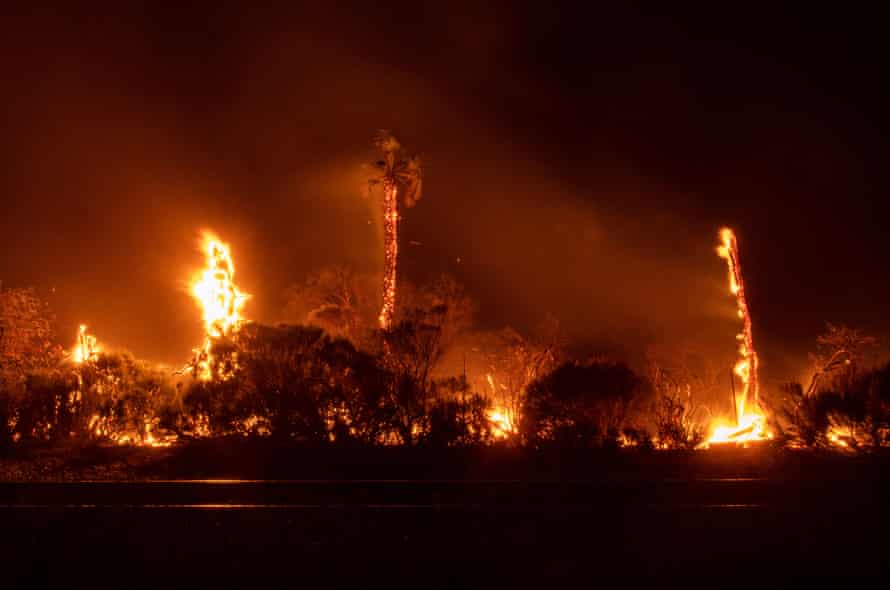 Close to 2m acres have burned already this year in California according to Cal Fire, with months of potential fire weather left. Autumn typically brings blustery winds that blow hot and dry, and vegetation, dried through the hot summer, is primed for ignition. Windy weather is a nightmare for firefighters in a state where heatwaves and historic drought tied to climate change have left forests and brush tinder-dry.
The winds were in full-effect through the early part of this week, surging through the state and raising fears of fresh wildfires. Red flag warnings of dangerous fire conditions continue in mountains, valleys, canyons and deserts. At least a half-dozen fires erupted around the state on Monday. The utility Pacific Gas & Electric (PG&E) shut off power to about 21,000 customers in 20 central and northern California counties to reduce the risk that power lines could be toppled and spark wildfires there.
Winds of 25 mph (40kp/h) with gusts up to 70 mph (112kp/h) were expected into early Tuesday evening. The National Weather Service said blowing dust was widespread from the Sacramento Valley, across the San Joaquin Valley and into the high desert Antelope Valley north of Los Angeles.
In the Sierra Nevada, firefighters achieved 30% containment on the KNP Complex fire, which has scorched more than 87,400 acres. The blaze burned through groves of giant sequoias in Sequoia national park and scientists are concerned hundreds of the tall trees may have succumbed in the flames. On Monday, a firefighter with a hand crew working on the blaze was struck by a rolling rock. The firefighter was airlifted to a hospital and is in stable condition, fire officials said.
Source:
California: strong winds increase danger of fresh wildfires around the state