1
WASHINGTON — It's been a year since the world watched angry Donald Trump supporters, some armed with Molotov cocktails and dressed in tactical gear, storm the nation's Capitol and violently clash with police. Spurred on by then-President Trump, rioters had traveled from far and wide to stop Congress from certifying the results of the 2020 presidential election.
Hundreds involved in the siege have been arrested, but many remain at large as officials piece together what happened on Jan. 6, 2021.
Here are some notable facts about the insurrection and its fallout:
2
Minutes Trump spoke before the siege: About 70
The day began with a rally to bolster Trump's false claim that the 2020 presidential race was stolen from him. Before Congress certified election results, thousands of Trump supporters gathered on the National Mall, just south of the White House, and listened for hours as some of Trump's most prominent defenders, including his personal lawyer, former New York Mayor Rudolph W. Giuliani, promoted the falsehood.
Trump addressed the crowd for one hour and 11 minutes and said he would "never concede" the race, and that if his supporters didn't "fight like hell, you're not going to have a country anymore."
3
Rally attendance: Thousands
Rally organizers told the National Park Service that they anticipated 30,000 people would attend. Law enforcement said the crowd size ahead of the protest was possibly as much as 80,000, according to then-Army Secretary Ryan McCarthy. The crowd size at the rally was at least 10,000, according to the Associated Press.
4
People surrounding the Capitol before the breach: Several thousand
A lot of attendees are believed to have peeled off as the siege turned violent. Experts say it's challenging to accurately estimate the crowd size because of the absence of aerial imagery, but they put a broad crowd size estimate at "several thousand."
5
Capitol Police officers on duty: More than 1,200
More than 1,200 Capitol Police officers were working on U.S. Capitol grounds at the time of the attack. The Capitol Police has not said exactly how many officers were guarding the Capitol building itself.
6
The time it took for reinforcements to arrive: 15 minutes (but it's complicated)
The Capitol complex was breached on Jan. 6 about 1: 50 p.m. Though some District of Columbia police officers responded within 15 minutes, the Pentagon took more than three hours to send National Guard troops to aide Capitol Police, according to Maj. Gen. William J. Walker. But a watchdog report is critical of this timeline.
7
Deaths from the insurrection: 5 (or more)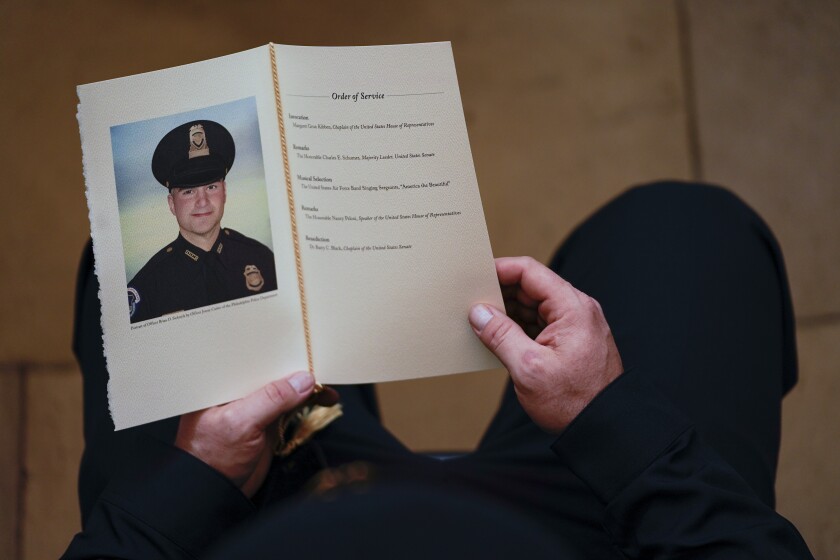 Most news sources have officially counted five deaths including Capitol Police Officer Brian Sicknick, who died after suffering two strokes, and San Diego resident Ashli Babbitt, who was fatally shot by Capitol Police while climbing a barricaded door inside the Capitol. But some in Congress — including Rep. Alexandria Ocasio-Cortez (D-N.Y.) — have suggested the number of deaths is closer to nine and should include officers who committed suicide in the days and months following the attack.
8
Officers injured: More than 140
More than 140 law enforcement officers were physically harmed during the insurrection, according to a special congressional committee investigating the attack. In a July hearing, a District of Columbia police officer recounted a chaotic and violent day where he was tased in the head several times by rioters and beaten unconscious.
9
People arrested: More than 700
More than 700 people have been arrested in connection with the insurrection, but the investigation is ongoing. More than 30 of those arrests were in California. The FBI is still seeking the public's help to identify rioters.
10
Hours the certification of electors was delayed: More than 13
The Capitol was breached about 1: 50 p.m. The Senate called a recess about 2: 11 p.m. The Capitol was declared secure at 8 p.m.
House Speaker Nancy Pelosi (D-San Francisco) brought the House back into session at 9 p.m., and Vice President Mike Pence officially declared Joe Biden president-elect at 3: 42 a.m. the next day.
11
Cost of cleanup and repairs: $1.5 million to more than $30 million
Total damages have been estimated to cost anywhere from $1.5 million to more than $30 million and include repairs and security measures like fencing.
Rioters left behind feces, blood, bullet holes, graffiti and bear repellent. Curators have requested $25,000 to restore historic artwork, including the bust of a U.S. politician accused of inciting another violent attack in the Capitol in 1954 — an armed group of four demanding Puerto Rico's independence.
12
People subpoenaed by Congress: 50-plus
Congress has issued 51 subpoenas and counting in its investigation into the siege. Conspiracy theorist Alex Jones and Trump advisor Stephen K. Bannon are among those subpoenaed. Members of far-right extremist groups like the Oath Keepers and the Proud Boys have also been drawn into the investigation for their roles in planning and orchestrating the riot.
13
Jan. 6-related lawsuits involving Trump: At least 5
The insurrection has spawned more than five lawsuits, all involving Trump. A group of House Democrats, some Capitol Police officers and Rep. Eric Swalwell (D-Dublin) filed separate lawsuits against Trump for his role in inciting the mob to overtake the Capitol.
Trump has asked the U.S. Supreme Court to review his lawsuit to block the release of White House records relating to the attack. His former chief of staff, Mark Meadows, is also suing to not release documents.
Source:
Jan. 6: By the numbers