President Joe Biden's nominee to fill the long-vacant role of ambassador to Beijing offered some of the administration's strongest views on China as he testified before a Senate committee on Thursday.
Veteran diplomat Nicholas Burns didn't mince his words at the Capitol when he described the People's Republic of China (PRC) as harboring ambitions to "become the most powerful military, economic and political actor in the Indo-Pacific." He told the Senate Committee on Foreign Relations that the United States must, together with American allies, maintain "commercial and military superiority" in the coming decades.
The post of top U.S. envoy to China has sat empty for over 12 months, following the resignation of Ambassador Terry Branstad last October. At a time of intense competition and heightened military rivalry between the world's largest economies, the prolonged vacancy appeared puzzling to experts, while Chinese officials have hinted at feelings of disrespect.
Burns, who began his career as State Department spokesperson under former President Bill Clinton, endorsed Biden's values-led foreign policy as well as his rallying of democratic allies and partners. Concerns over Beijing's human rights practices, its aggression and intimidation of neighbors were common threads at his confirmation hearing.
Senators on both sides of the aisle also quizzed him about the best response to Chinese coercion against Taiwan, which has faced some of the worst military pressure in decades.
"The PRC's genocide in Xinjiang and abuses in Tibet, its smothering of Hong Kong's autonomy and freedoms, and its bullying of Taiwan are unjust and must stop," Burns said in his opening remarks, calling recent military maneuvers targeting Taiwan "especially objectionable."
"We cannot be silent if there are atrocities occurring or, in the case of Xinjiang, a genocide is occurring. We have to speak out," he told Senator Ben Cardin (D-MD).
"The PRC is not an Olympian power," added Burns, who previously served in ambassadorial roles in Greece and at NATO. Explaining his choice of phrase to Senator Jeanne Shaheen (D-NH), he said: "I meant it specifically. They have enormous strengths. They have very few friends; they have no real allies."
The ambassador-designate said the U.S. needed to have more "self-confidence" in its own capabilities and alliances. "Beijing proclaims that the 'East is Rising and the West is in Decline.' I am confident in our country, and believe that, together with our allies and partners, we will prove them wrong," he remarked.
China's Rapid Military Expansion
More than one lawmaker commented on China's rapid military expansion and its nuclear buildup. Burns told Ranking Member Senator Jim Risch (R-ID) that Beijing was "blasting past" its stated goal of maintaining a "minimum nuclear deterrent" while refusing to engage in arms control talks. He cited the discovery of hundreds of new missile silos in China's western desert and recent reports of its hypersonic technology.
The deteriorating security situation across the Taiwan Strait—now front and center in the strained relationship between the U.S. and China—drew some of Burns' clearest comments on American intentions.
Under the U.S.'s "one China" policy, Washington has formal diplomatic relations with Beijing while maintaining unofficial ties with Taipei. Central to the latter relationship is the Taiwan Relations Act (TRA), which obliges the U.S. to sell Taiwan defensive arms while also providing its own military deterrence in what is today's expansive Indo-Pacific region.
Despite a long history of security cooperation with the democratic island, no U.S. law or mutual defense pact exists to compel American military involvement in the event of a Chinese attack on Taiwan. This posture of "strategic ambiguity"—held over four years—is one that Burns argued should be maintained.
The TRA already provides Congress and the Executive branch with "enormous latitude" to deepen U.S. security cooperation with Taiwan, he told committee Chair Bob Menendez (D-NJ). Burns described the law, passed in 1979, as "remarkably modern for the strategic questions we're facing in 2021."
Arms Sales to Taiwan
During the hearing, Senator Ted Cruz (R-TX) announced his intention to introduce the Taiwan Arms Act, which would elevate Taiwan's status for arms sales and put it on par with some of America's closest allies. The Republican lawmaker argued that China perceives the U.S. position of "strategic ambiguity" as weakness.
In response, Burns told Cruz that provisions of the TRA allow Congress and the Executive "to do more if you choose to do more."
With China's having "gone back on every one" of its commitments to the governance of Hong Kong, Burns said: "We obviously cannot trust China to meet the commitments it's made on the Taiwan issue."
"When Congress passed the Taiwan Relations Act; when administration after administration pursued a "one China" policy, we obviously did so on the presumption that there would be peace in the cross-strait relationship between Taiwan and China," he told Senator Risch. "And there isn't much peace today. There's assertiveness and aggression. We certainly cannot trust the Chinese on this issue."
On Thursday, China's Foreign Ministry said Burns' testimony was "full of Cold War, zero-sum mentality and seriously inconsistent with reality."
Ministry spokesperson Wang Wenbin asked Burns to "take a rational view of China's development and China-U.S. relations," and "play a constructive role" in promoting bilateral ties.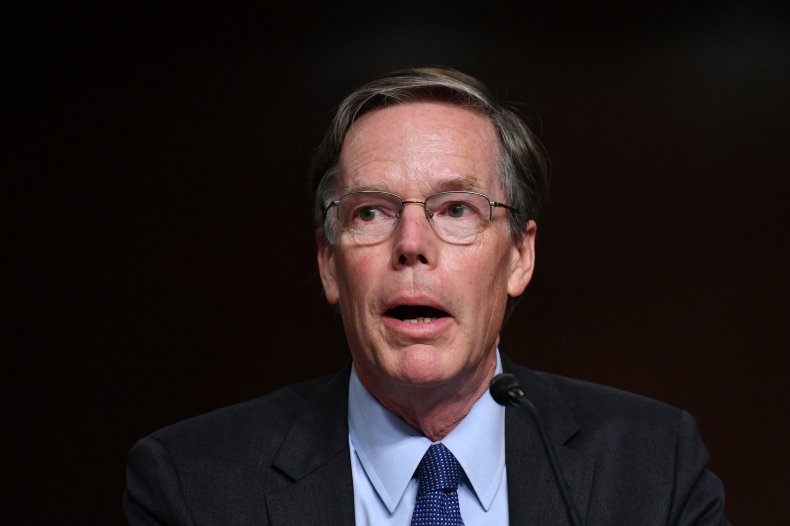 Source:
Joe Biden's Pick for Ambassador to China Takes Hard Line on Beijing