17 min ago
Boston prepares for a historic night in mayoral race
From CNN's Maeve Reston
Boston will make history regardless of who wins on Tuesday, with the city's voters set to elect a Democratic woman of color after a long history of leadership by White men. Polls have shown Boston City Councilor Michelle Wu, a champion of progressive policies, opening a commanding lead over her more moderate rival Annissa Essaibi George, who also serves as a Boston city councilor-at-large.
Both women have highlighted their family roots as the daughters of immigrants. Wu's parents came from Taiwan. Essaibi George is the daughter of a Tunisian father and a Polish mother, who was born in a displaced persons' camp in Germany.
Essaibi George, who has joked about her thick Boston accent, has tried to make her experience as a lifelong Bostonian a key credential, pitching herself as a small business owner who attended and later taught in Boston schools, coaching softball on the side.
Wu grew up in Chicago and attended Harvard College and Harvard Law School, where she was a student of then-professor Elizabeth Warren — the Massachusetts senator whom Wu calls one of her personal heroes and her biggest backers. Wu has written extensively about how she was forced to put her career plans on hold in her early twenties to deal with her mother's mental illness, becoming a caregiver for her mother and younger sisters at the age of 23. She was just 28 years old when she was elected to the Boston City Council in 2013, later serving as council president, and made it a point to tend to some of her duties with one of her young sons on her hip.
Essaibi George has criticized some of Wu's ideas as too unrealistic and expensive, particularly her fare-free transit proposal, which Wu calls "Free the T." She opposes rent stabilization, stating in a recent debate that rent control would unfairly impact "our mothers, our fathers, our grandparents — those who have built some legacy wealth for their families" and predicted it would create greater gentrification while driving families farther out of the city. Wu countered that the policy would give struggling renters predictability and a chance to stay in their communities. "I'm not willing to sit back and say this is something that is impossible and we're not going to fight for what we need," Wu said during the recent NBC10 Boston, Telemundo Boston and NECN debate.
Essaibi George has opposed reallocating funding from the Boston Police Department's budget toward programs to address root causes of crime and said the city needs about 300 more officers. Wu's public safety plan includes diverting non-violent 911 calls to alternative response teams and "civilianizing" traffic enforcement by having trained, unarmed civilian personnel handle routine infractions like broken tail lights or rolling stops — a change that she says could reduce the risks of armed confrontations.
Wu finished ahead of Essaibi George in September's preliminary municipal election, but both women dispatched other candidates including Acting Mayor Kim Janey, who replaced Marty Walsh when he became President Joe Biden's Labor Secretary in March.
Essaibi George's decision to stake out a position in the center of the electorate helped her stay in the game in the first round by winning over more conservative and moderate White voters, said Tufts University political science professor Jeffrey Berry. But that positioning has presented challenges in her one-on-one race with Wu in a city where most of the electorate is to the left of center.
"It's not a city divided between the haves and have-nots, but it is a city where there's a lot of people who have a whole lot, along with a lot of people who are working class and are really just making it because of the high cost of living in Boston," Berry said. "So, it's not about poverty, but it is about working-class people and whether or not they can be taken up a level on the economic ladder."
24 min ago
Your guide to today's election: These are the major races to watch
From CNN's Eric Bradner, Gregory Krieg, Dan Merica and Maeve Reston
Voters across the country are heading to the polls Tuesday to decide a series of races that will test the national political landscape and the direction of the Democratic Party a year into Biden's presidency.
Here are the key races to watch today:
Virginia governor's race: Virginia's gubernatorial contest between Democratic former Gov. Terry McAuliffe and Republican businessman Glenn Youngkin will be the most closely watched race of the night, serving as a key bellwether for national sentiment headed into the 2022 midterms and beyond. Virginia has tilted toward Democrats over the last decade, but McAuliffe and Youngkin are locked in what polls show to be a neck-and-neck race with more than 1.1 million ballots already cast during early voting. A win for McAuliffe would be a validation for President Biden and his agenda, while a win for Youngkin, who has tried to walk a fine line on handling support from former President Donald Trump, would provide a jolt of momentum for Republicans and could provide Republicans running in competitive states with a roadmap for handling Trump.
New Jersey governor's race: Gov. Phil Murphy appears to have a comfortable lead in his bid to become the first Democratic governor of New Jersey to be re-elected since 1977. Barring a remarkable upset by GOP challenger Jack Ciattarelli, the streak will be broken and Democrats will have some evidence that an executive who has championed mask and vaccine mandates will be rewarded for it by voters. Victory for Murphy will also underscore the difficulty even moderate Republicans have distancing themselves from former President Trump, especially in blue states. Trump has steered clear of Ciattarelli, and Ciattarelli has kept his distance from the former President. But Murphy has hammered Ciattarelli, whose main message is on taxes, which voters have called the state's most pressing issue, on his appearance at a "Stop the Steal" rally last year. (Ciattarelli said he was not fully aware of the event's theme.)
New York mayoral race: Eric Adams won the narrowest of contests to become the New York City Democrats' mayoral nominee. His race on Tuesday will be less dramatic – the Brooklyn borough president is a lock to be elected the next Big Apple mayor. His ascent, though, is about more than the city, as Adams and his campaign have been touted by top Democrats as a case study in how the party should go forward. Adams, a former police captain, has sought to portray himself as a working class candidate. While he has been dismissive, and sometimes confrontational, with the party's left-wing activists, Adams has also — on issues like public safety, the centerpiece of his campaign — adopted some progressive ideas about prevention and early intervention.
Minnesota police referendum: Voters in Minneapolis, nearly a year-and-a-half after the murder of George Floyd, will go to the ballot box with a chance to either approve or reject a referendum that would significantly overhaul policing in the city. The referendum is being watched nationally as a test of the "defund the police" movement, a controversial slogan that gained traction among progressives in the wake of Floyd's killing and has since been used against Democrats across the country. If the measure passes, the city would create a Department of Public Safety, eliminate a requirement on the number of officers the city must have and split control of the new department between the city council and the mayor.
Read about other key races here.
1 hr 9 min ago
Biden says he believes McAuliffe will win Virginia, but race is "very close" 
President Biden said he thinks Democrats will win in Virginia and New Jersey's gubernatorial races tonight when asked about the impact his agenda could have on the states' elections.
"I think that this is going to be what we all knew from the beginning; it's going to be a tight race, and it is tight. And it's going to get down to turnout," Biden said about the Virginia race after making remarks at COP26 in Glasgow, Scotland.
Biden was asked if the close race in Virgina between Democrat Terry McAuliffe and Republican Glen Youngkin is a rebuke of his presidency.
"I don't believe — and I've not seen any evidence that — whether or not I am doing well or poorly, whether or not I've got my agenda passed or not, is going to have any real impact on winning and losing. Even if we had passed my agenda, I wouldn't claim we won because Biden's agenda passed," he said.
He added that he hopes every eligible voter in Virginia and New Jersey shows up to cast their ballots today.
2 hr 9 min ago
Chesapeake, Virginia, voters say education, gas prices and veterans issues drove them to the polls
From CNN's Joe Johns and Ellie Kaufman
Voters in Chesapeake, Virginia, said they were voting in the state's gubernatorial election based on their concern about issues such as education, increasing taxes on gas and veterans' health care.
In the 2020 presidential election, 52% of voters in Chesapeake voted for Biden, while 46% cast ballots for Trump. 
One in 11 Virginia residents is a veteran. Vicky Harley-Mapp, a retired health care worker who now takes care of her veteran husband, said she voted for Democratic candidate Terry McAuliffe because of his focus on military community issues.
"I've always been a believer in helping people," Harley-Mapp told CNN. "I'm in the medical field, and I see a lot of the stuff that he's done for the community, and I know more about him than the other." 
Another voter, William Halley, said he chose to vote for McAuliffe because of his support for unions. Unions have publicly endorsed and contributed to his campaign. McAuliffe has also pledged to repeal the state's right to work law, which prohibits unions from forcing workers to pay union dues.
Antoinette Person, a teacher, said she decided to vote for McAuliffe because he supports educators. Republican candidate Glenn Youngkin has made education his top issue, promising to increase the number of charter schools in the state. But Person said she was motivated by McAuliffe's past support of education in the state.
"I'm an educator, so I know that in the past he's supported education, and times just the way that they are now, we're doing so much more; we really need raises, we need more resources in our schools to do the best that we can," Person said. "I know that McAuliffe has supported educators in the past."
Joseph and Patricia Beach said they chose to vote for Youngkin because they traditionally vote Republican, and they believe Republicans "have got a better way" of getting the US "out of the slump we're in," citing high gas prices. 
"Unfortunately, Trump weakened our country the way he did, but we still vote Republican," Joseph Beach said. "You can't be right all the time, you can't be wrong all the time, so we think that Republicans have got a better way of getting us out of the slump we're in."
Youngkin has proposed eliminating Virginia's grocery tax. The couple also expressed support for Youngkin's opposition to increasing gas prices. 
3 hr 11 min ago
Virginia senator says lack of progress on Biden agenda before governor's race will "have an effect"
From CNN's Manu Raju
When asked by CNN about the lack of final action on an infrastructure bill and what that means for his state's gubernatorial race, Virginia Democratic Sen. Tim Kaine said:
"Look and see how close the race is. I think it would have been — [Virginia Sen.] Mark Warner and I were certainly saying to our colleagues beginning in late September, early October — this would be a good thing in Virginia to have both of these bills going to President Biden," Kaine said.
Kaine added: "I think both of these bills are gonna pass. I think the difference between passing them in October and passing them in November is going to have an effect. How much? We will see."
Republicans, meanwhile, say they hope even a close race will put pressure on House and Senate Democratic moderates to defect and help sink Biden's agenda. 
"I think it's going to get harder to get their agenda right now," said Senate GOP Whip John Thune. "If [McAullife] wins, he's going to win narrowly. It's still going to represent a huge collapse from the margin of last time."
3 hr 2 min ago
NYC mayor votes for his successor
From CNN's Mirna Alsharif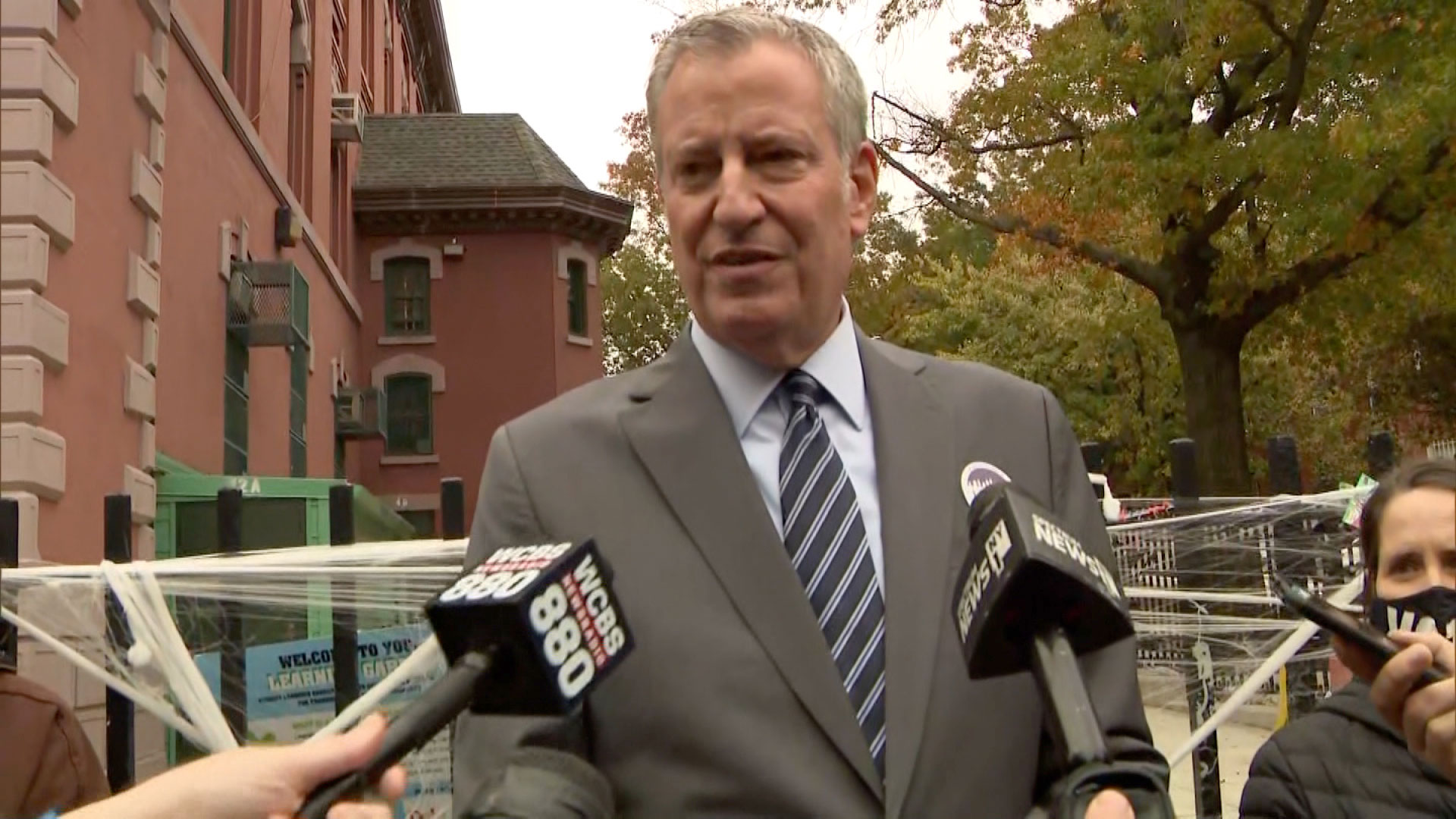 New York City Mayor Bill de Blasio voted for his successor at the Park Slope Library in Brooklyn on Tuesday afternoon.
De Blasio greeted poll workers before putting in his ballot.
"It feels great to vote; I want to urge all New Yorkers get out and vote until 9 o'clock," de Blasio told reporters after voting. "I predict Eric Adams is going to be our next mayor." 
Polls close at 9 p.m. ET in New York.
"Please vote on the five ballot items on the back of the ballot, really important. I'm urging a yes vote on all of them," he said.
When asked if and when he'll announce his potential run for governor, de Blasio said, "I want to continue public service."
"Everyone's got to make their own decisions in their own time," he said.
3 hr 17 min ago
A former Atlanta mayor vies for a comeback
From CNN's Maeve Reston
Fourteen candidates are vying to replace Democratic Mayor Keisha Lance Bottoms, who's not running for reelection. The contest is happening amid alarm about the spike in violent crime, as well as controversy over an effort by the residents of the wealthy community of Buckhead to break off from the capital and create their own city.
Bottoms announced in May that she would not seek another term after a trying year dealing with vandalism that followed demonstrations over George Floyd's death, the GOP-controlled legislature restricting voting rights and the rise in violent crime, which she framed — to criticism — as a "Covid crime wave." Tuesday's election will be the first since the changes to the state's election laws, which may offer a window into how those restrictions could impact turnout in 2022 and 2024.
Polls suggest that a large swath of the electorate is still undecided, but the leading candidates — including former Mayor Kasim Reed, City Council President Felicia Moore and Councilman Andre Dickens — have put Atlanta's crime rate at the forefront of their campaigns. Shooting incidents have increased dramatically from 406 at this point in 2019 to 629 this year, according to Atlanta Police Department's Oct. 23 report.
Crime is motivating some of the Buckhead leaders who are championing the split from Atlanta. Foes say the proposal to break off the wealthy, 25-square-mile area in northern Atlanta would be a devastating blow to the city's revenues, while proponents say crime has simply become unmanageable and that they are not seeing a high enough return for their tax dollars.
There are also concerns about low morale at the Atlanta Police Department and the number of officers who have departed the force. Tensions were high after Bottoms called for the firing of the officer who shot Rayshard Brooks in the parking lot of a Wendy's in June of 2020. (The Georgia Bureau of Investigation said Brooks scuffled with officers and ran away with one of their stun guns). In June, CNN reported that more than 200 officers had resigned or left the force over the previous year, and only about 60 were hired during that period, according to the department.
Dickens' public safety plan calls for increasing the police force by 250 officers during his first year in office while requiring new training for every police department employee on de-escalation techniques and racial sensitivity. Moore has proposed police reform measures like requiring the release of body camera footage within 72 hours of every police shooting and requiring officers to intervene when they see excessive force. But she has also spoken at length about the need to address low morale in the department — by promising incentives for retired police officers if they return to their jobs for one to two years, for example.
Reed, who served two terms as mayor from 2010 to 2018, has pointed to the lower crime rates during his tenure. His public safety plan includes hiring and training 750 new police officers, ramping up implicit bias and de-escalation training and tripling the city's network of traffic cameras and license plate readers.
Moore and some community activists have raised concerns about the federal corruption investigation that led to indictments of some of Reed's former aides, which has been exhaustively chronicled by The Atlanta Journal Constitution. In a statement provided to CNN by Reed's campaign, his attorneys said that during an Aug. 2021 call, two assistant US Attorneys informed the candidate's lawyers that the federal inquiry was completed and had been closed. The US Attorney's office did not respond to CNN's request to confirm those details.
The controversy drew fresh scrutiny recently when Richard Rose, president of the NAACP's Atlanta branch, issued a public rebuke of Reed on the group's letterhead — stating that voters deserved better. Reed responded by posting a statement on Instagram that said his campaign was "being attacked because we sought and received the support of the women and men of the Atlanta Police Department at a time when crime and violence is devastating our city." The general counsel of the NAACP subsequently sent a cease-and-desist letter to Rose noting that the bylaws for units of the NAACP prohibit officers from endorsing candidates for office.
A key note about this race: If no candidate receives at least 50% plus one, Atlanta will hold a run-off election on Nov. 30 to decide the winner.
3 hr 32 min ago
How to watch all the latest Election Day developments
From CNN's Rachel Janfaza
Americans are heading to the polls today to decide a series of races that could hold clues of what is to come in the 2022 midterms.
Voters are casting ballots for governor in Virginia and New Jersey, lieutenant governor in Virginia, and mayor in several major American cities, including New York, Boston, Atlanta, Buffalo and Minneapolis, among other races. And while the balance of power isn't expected to shift in Congress, there are also two special elections for the US House in Ohio, plus a special election primary for a House seat in Florida, happening on Tuesday.
Here's everything you need to know about how to watch CNN's special coverage.
"Election Night in America" will stream live for subscribers via CNNgo (CNN.com/go and via CNNgo apps for Apple TV, Roku, Amazon Fire, Chromecast, Samsung Smart TV and Android TV) and on the CNN mobile apps for iOS and Android. "Election Night in America" will be available on demand via cable/satellite systems, CNNgo platforms and CNN mobile apps.
Special TV coverage on CNN begins at 6 p.m. ET.
Jake Tapper will anchor coverage in Washington from 6 p.m.-12 a.m. ET with analysis from Dana Bash and Nia-Malika Henderson. John King will also be live in the Election Center from the CNN Magic Wall, as well as David Chalian, who will cover exit polls, and Pamela Brown at the Voting Desk. Anderson Cooper, Van Jones, David Axelrod, Gloria Borger and Scott Jennings will provide additional coverage from New York City and Don Lemon will anchor the network's late-night coverage from 12 a.m.-2 a.m. ET.
Before the polls close, CNN Politics has several Election Day resources available to readers:
7 p.m. ET in Virginia and Florida
7: 30 p.m. ET in Ohio
8 p.m. ET in New Jersey, Atlanta and Boston
9 p.m. ET in New York City, Buffalo and Minneapolis
4 hr 37 min ago
Virginia will elect a woman of color for the first time as lieutenant governor
From CNN's Chandelis Duster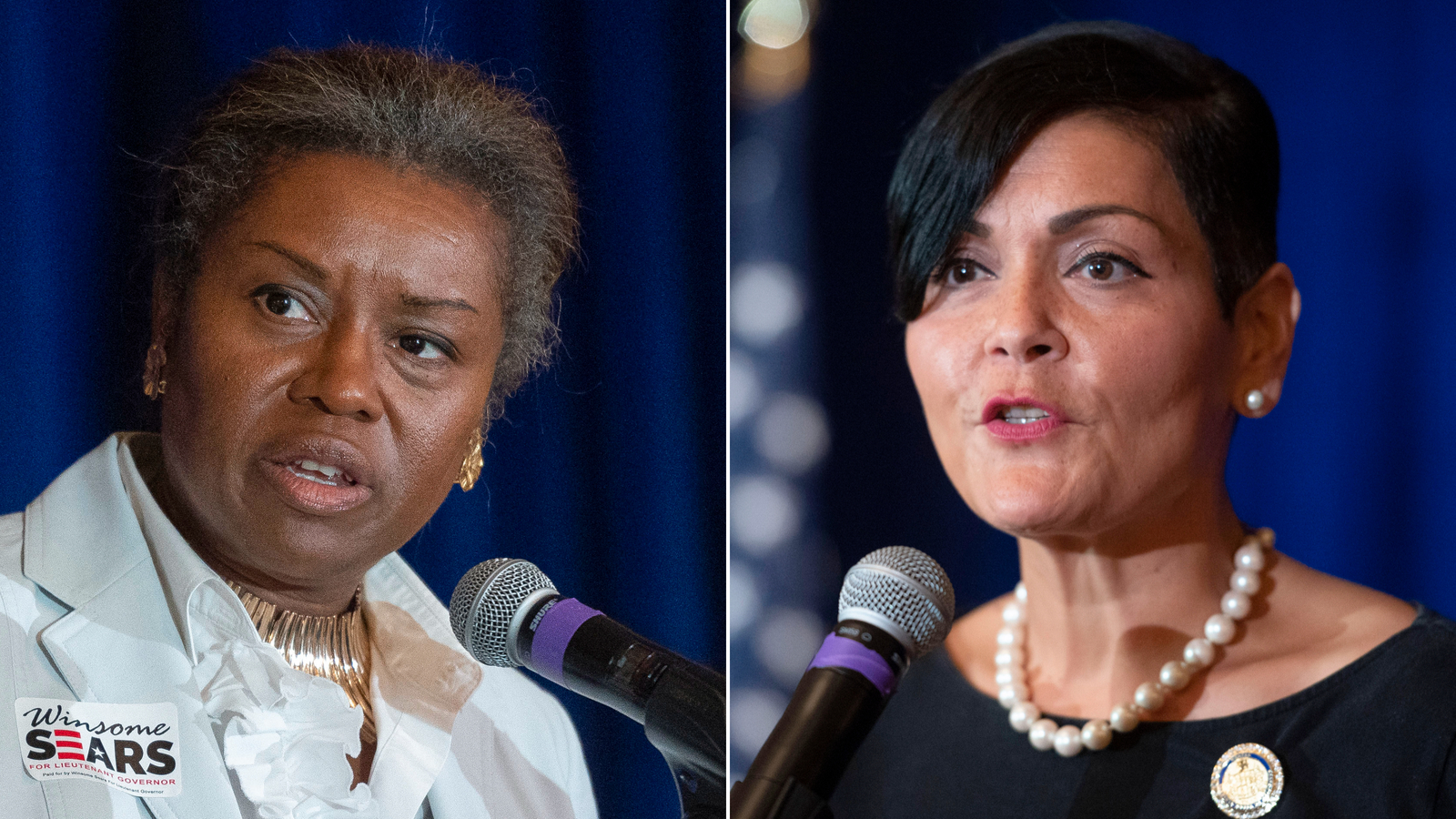 Virginia is primed to elect a woman of color as its next lieutenant governor at a time when the commonwealth is facing a series of challenges that directly affect its Black and brown communities.
Regardless of whether it will be Democrat Hala Ayala or Republican Winsome Sears, they'll draw from their personal experiences as the next administration tackles challenges such as the Covid-19 pandemic, crime, education and racial justice, even if they don't agree on the political remedies.
She will also face the aftermath of a racial reckoning that has brought the commonwealth into a national spotlight. The killing of George Floyd last year ignited emotional debates about policing and the lingering presence of Confederate imagery. The pandemic has hit Black and brown communities especially hard, and a contentious debate over the teaching of race in the state's public schools has emerged as a major issue in the gubernatorial campaign's final weeks.
Politically, Virginia has gone from a slave trading mecca that once held the capital of the Confederacy to a state that has trended blue in recent elections.
Two women of color are now running for its second-highest office, nearly two years after the state's General Assembly elected its first female speaker of the House in its 400-year legislative history.
All of this makes Ayala and Sears' candidacies "critical" for this moment in the commonwealth's history, Kimberly Peeler-Allen, a co-founder of Higher Heights, a national organization that seeks to help Black women get elected to political office, told CNN.
"It shows that people of color, women of color are not a monolith by any stretch, but it also speaks to the evolution of Virginia," said Peeler-Allen, who is also a visiting practitioner with the Center for American Women and Politics. "There's a lot of promise in advancing women of color in leadership in the commonwealth and the country by looking at this race."
Read more about Virginia's lieutenant governor's race here.
Source:
More than 1 million voters have cast ballots so far in a series of races that could hold clues of what is to come 2022 and beyond