From 'Bond' bad guy to 'SNL'! Rami Malek makes his hosting debut on 'SNL', alongside musical guest Young Thug on the Oct. 16 show. Travis Barker has also teased an appearance on social media.
Live from New York, it's Saturday night! Season 47 of Saturday Night Live is well underway, and show runner Lorne Michaels has yet to disappoint with his choice of show hosts and musical guests. This week, Rami Malek, 40, is set to take the stage at Studio 8H alongside musical guest Young Thug, 30, on Saturday, Oct. 16. Throughout the week, Travis Barker, 45, has also been teasing an appearance via his Instagram stories — including a dressing room with his name.
Rami and Young Thug follow Kim Kardashian's epic hosting debut a week ago! The SKIMS founder didn't hold back from her barb-filled opening monologue as well as various spoofs making fun of her family (including sister Kourtney Kardashian and her boyfriend Travis Barker in "The People's Kourt" sketch — perhaps he's ready to take a jab back this week?).
Owen Wilson, 52, opened the season musical guest Kacey Musgraves, 33, on Oct. 2. Just like Kim, the Wedding Crashers star also made his hosting debut in season 47, chalking up the long wait to nerves. "I get really nervous with public speaking. I've never done any of those commencement addresses or Saturday Night Live just because I get too nervous," he explained on a hike to friend Kevin Nealon in a YouTube video. Owen slayed it, and even had some help from his brothers Andrew, 57, and Luke, 50, during his opening monologue.
Learn more about this week's show below.
Rami Is Hosting 'SNL' For The 1st Time
Fresh off his starring role in James Bond film No Time To Die, Rami is making his SNL hosting debut. The actor delivered a memorably chilling performance as scarred villain Lyutsifer Safin in Daniel Craig's final movie as 007 (Craig hosted SNL ahead of the film's originally scheduled release in 2020).
In the promos leading to the episode, Rami proved he was up for the challenge of entertaining the fickle SNL audience. The Oscar winner appeared alongside cast members Ego Nwodim and Bowen Yang for the short bits, which were posted to social media. "You know, Rami, a lot of people find your eyes unnerving, but I don't see it," Ego said to Rami after meeting him for the first time and staring a little too deeply into his eyes.
Cats' Rami Malek!
Young Thug!
THIS SATURDAY!!! pic.twitter.com/LPoPwFpIiY

— Saturday Night Live – SNL (@nbcsnl) October 15, 2021
"Thank you?" a confused Rami replied as Bowen intercepted with the idea that Ego and Rami try a staring contest. "This man is a demon," she says after turning away rather quickly. 
In another Ego, Bowen and Young Thug applaud Rami's work in the latest Bond film. "When Grizabella goes back to the jellicle ball and sings that song — literally tears," a confused Bowen says, hilariously referencing to box office bomb Cats. 
The 'SNL' Musical Guest Tonight Is Young Thug
Young Thug is also set to make his SNL debut. The rapper's appearance comes off his latest album PUNK, which includes a slew of guest appearances from pals like Travis Scott, Drake, J. Cole, Future, A$AP Rocky, Post Malone, Doja Cat, and Gunna. Notably, the late Mac Miller and Juice WRLD are also featured on tracks. Notably, the rapper has a Grammy, earning a trophy in 2019 for his songwriting contribution on "This Is America".
Travis Barker is most likely supporting Young Thug — née Jeffery Lamar Williams — during one of his two performances. The Blink 182 drummer and Atlanta native previously performed together during Young Thug's Tiny Desk Series concert on NPR, specifically on the track "Ski."
💕💕💕 https://t.co/FegZ0Npiyt pic.twitter.com/od7ldxwC4x

— Young Thug ひ (@youngthug) July 27, 2021
Travis also popped up in a behind-the-scenes pic with Young Thug, shared by NBC's official Instagram. His girlfriend Kourtney has also been posting up a storm on her own social media accounts, accompanying her beau to Studio 8H for rehearsals (the two have also been photographed out and about New York City all week).
👀 !!!!!!! pic.twitter.com/WJfZpOFXb6

— Saturday Night Live – SNL (@nbcsnl) October 15, 2021
 What Time Is 'SNL' On?
Saturday Night Live airs at 11: 35 p.m. PST/EST and 9: 30 p.m. MT on local NBC affiliates. The series can also be streamed live on the Peacock app.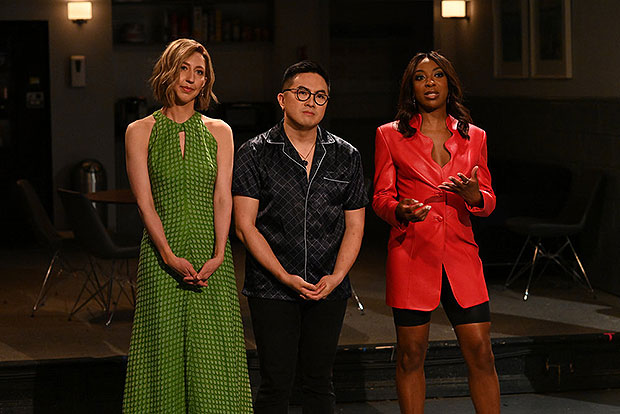 'SNL' Cast Members This Season
Saturday Night Live has a number of new cast members joining the show this season, including Andrew Dismukes, Sarah Sherman, James Austin Johnson, Punkie Johnson and Aristotle Athari.
Michael Che and Colin Jost remain in their roles as "Weekend Update" hosts, which they took over in 2014 from Seth Meyers and Cecily Strong. Other returning cast members include Pete Davidson, Aidy Bryant, Kate McKinnon, Kenan Thompson, Chloe Fineman, Heidi Gardner, Alex Moffatt, Kyle Mooney, Chris Redd, Ego Nwodim, Melissa Villaseñor, Bowen Yang and Cecily.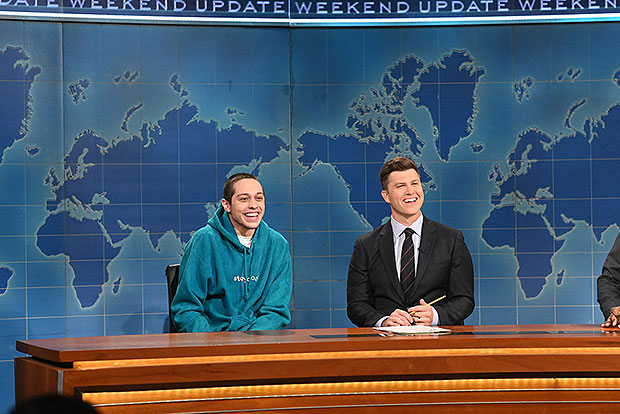 Beck Bennett and Lauren Holt announced their departures ahead of season 47. Beck, 36, took to social media with a heartfelt message about his exit. "Love you, SNL," he wrote on Sept. 27. "Gonna miss you so much. Thank you for 8 years of remarkable people and incredible experiences that completely changed my life. I had so much fun," he also penned, alongside a slew of photo highlights which you can see here.
Lauren also shared a sweet tribute to mark the end of her one year run. "What an incredible year spent with incredible people. I will always be so grateful," the comedian began. "Cheers to all the cast members past, present, & future…so proud to be/have been a part of this amazing family. These three letters will always bring joy to my heart… SNL, I love you," she also said.
Source:
Rami Malek Hosting 'SNL' For The 1st Time On Oct. 16 With Musical Guest Young Thug