Sean Hannity discusses Georgia grand jury foreperson Emily Kohrs' "bizarre" interviews and digs into potential ethics concerns on "Hannity."
SEAN HANNITY: AMERICA'S TRANSPORTATION SECRETARY HAS BEEN MIA
SEAN HANNITY: The grand jury's forewoman, a woman by the name of Emily Kohrs, has now embarked on what is a truly bizarre, potentially unethical, countrywide press tour. To date, no one has been indicted in Georgia, and the investigation is supposed to be ongoing. That is not stopping Emily Kohrs from gushing about her experience in the grand jury. 
Let's see. She's talked to The New York Times, the AP, fake news CNN, MSDNC, NBC News, and it appears that the jury forewoman is overjoyed with the prospect of potentially putting former President Trump behind bars, but will be disappointed if no charges are filed. She was dying as the foreperson. It would have been her job to swear in the president.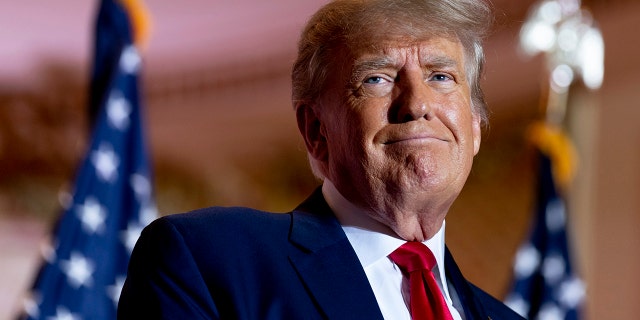 Former President Donald Trump told Columbia Journalism Review he had to fight off "unbelievably fake stories" during his presidency. (AP Photo/Andrew Harnik, File)
Do you swear to tell the truth, the whole truth, and nothing but the truth so help you God? She didn't get that opportunity. Now, watch, though, as she's smirking and smiling and laughing her way through several what are bizarre and insane interviews…
CLICK HERE TO GET THE FOX NEWS APP
Does she seem impartial? Does she even appear competent? Does she understand the gravity of the situation? OK. Laughing at the prospect of literally ruining people's lives, putting them behind bars, taking away their liberty, their freedom. This is not acceptable. It's not appropriate. It's not how justice in America is supposed to work. That, what we saw, is a travesty, in fact, it might even be against the law. 
Source:
SEAN HANNITY: This is not how justice in America is supposed to work